Lieske Fan Olde Hoek
This is an amazing mare with an outstanding pedigree. By the Preferent stallion Feitse and out of Klaakse Fan E Olde Hoek who is a 4th level dressage mare and Ster + Sport + Pref.  Lieske is a joy to ride and so much fun to take out on the trails. She is a favorite to ride bareback! A big mare who is well over 16 hands but teddy bear sweet. She has been shown in dressage and in harness. Her foals are destined for the showring.  We lost our sweet Lieske to Colic spring of 2022, Our hearts our broken.
Gina ut a Polder
Gina Ut A Polder, aka "Teyla," is a 2002 FPS imported Friesian Mare from the Netherlands.
She has had a successful show career in both Europe and the US. In her first year under saddle she placed top 5 or better in both regionals and national qualifier shows in Italy against older horses. Currently schooling 3rd level dressage, she is also a great trail horse. She is one of those rare horses who has upper level ability and is also safe enough for beginners to ride. You just don't find a horse like that very often.
With a great work ethic, Teyla is a willing and fun partner who is just a joy to be around. Currently taking time off from showing to be a mom, we are sure Teyla's foals will continue to be in great demand. Check out her first foal on our foal page. FPS Registered colt Tango by Wobke. Tango was sold and lives with his owner in Italy. She has two foals by Keegan here in the US that sold quickly into great homes.
GBS Aylin's Illusion
We did it, we finally got a filly by Keegan! All of our homebred purebred's by him were colts. This lovely 2016 filly was purchased from Grace and Beauty farms and is out of their Fridse mare. Keegan of course is by Grand Prix stallion Jorrit. This lovely filly moves as nicely as you would expect with her breeding. As a bonus she is super sweet and friendly. Good thing too, as we expect her to mature close to or at 17 hands! UPDATE summer 2022 Aylin has a wonderful new home in Florida!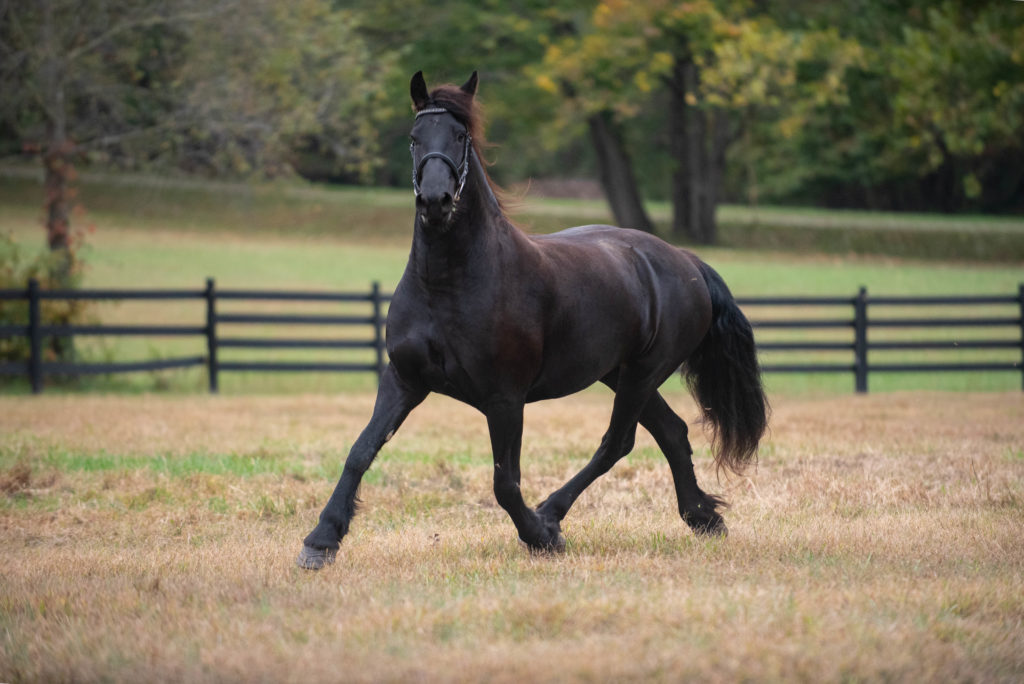 PK Rhythm's Colors
Zamira is a 2016 filly who gets her gorgeous color from her Oldenburg sire Salomon. He is by sempatico and out of a Art Deco mare and is homozygous for tobiano. Zamira is out of our mare Cadenza and is a special blessing as we lost Cadenza to cancer a few months after weaning. Cadenza's other foal, Rhythm's Image is a multi world and nation champion who is currently successfully moving up the dressage levels with his amateur owner. So we expect big things from this lovely girl! She is currently in training for a dressage career!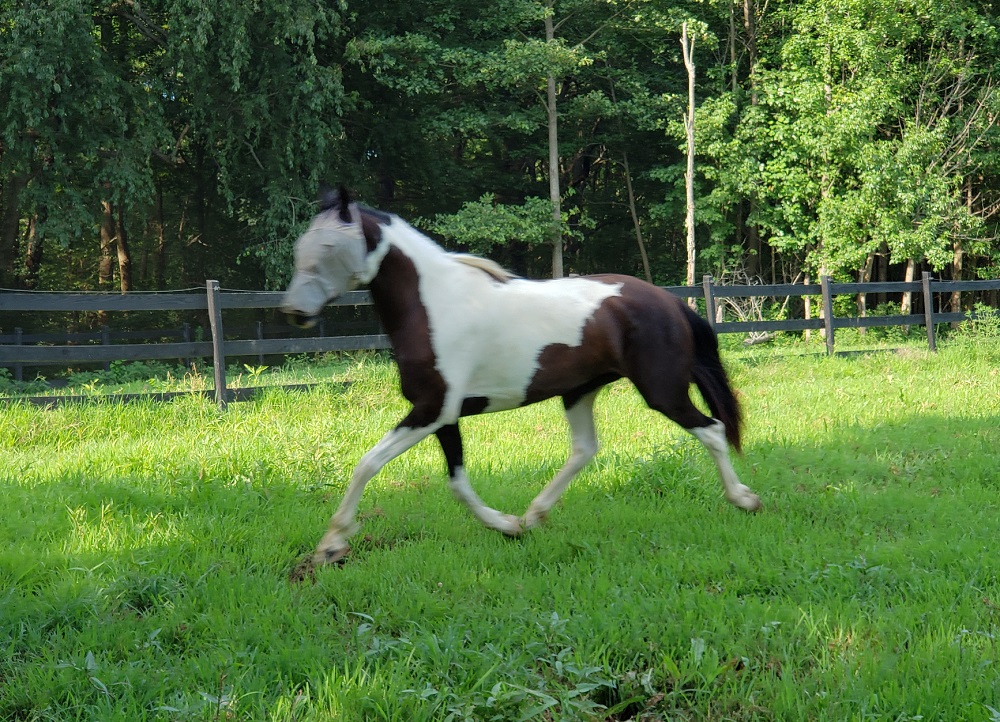 Devine Design
This sweetheart is Rocky Mountain mare Devine Design. She is triple registered and approved for breeding. For the moment I plan on just using her to ride! I have alot of problems with my knees and can no longer post. So gaited it is! Her cool chocolate color is the result of the silver gene on a black base coat. So maybe there will be a cool chocolate Friesian cross foal somewhere in the future. You never know…..
Zips Penny Lane
Mystery is a 2003 AQHA mare we purchased to do western dressage with. She is a fun mare with all the buttons. At her very first show she won first place! It was even her first time doing western dressage. She has that lovely show western jog that is easy on my bad knees. Western dressage is becoming more popular in our area and I am looking forward to being among the first to take on the tests.
Cadenza
Cadenza is a 2003 Registered Friesian Sport horse. Sired by the Friesian stallion Danny and out of Too Mary, a thoroughbred mare who consistently produced winning show foals. She has been shown in dressage and used as a trail horse. She is great fun to ride as she is so athletic that everything comes easily for her. One of my all time favorite horses to ride, especially bareback! She is such a good girl. Unfortunately her show career was cut short by injury. Cadenza is however, still a terrific trail horse and rides the same everyday or once a year.
Cadenza is also an awesome broodmare. Her foals are friendly, athletic, easily trained and love to show off. They inherit her easygoing demeanor, beautiful balanced movement and correct conformation. Her first foal Rhythm's Image is a three time National Champion! Winning in dressage, Sport Horse in Hand and English Pleasure Horse at the IFSHA World and Nationals Show in 2013.
We are heartbroken to announce that Cadenza passed away due to cancer in January of 2017. This was an amazing and special mare who can never be replaced and will always be in our hearts.