We currently don't have any sale horses available. Check back as this is always changing!
Sold Horses
2019 Friesian X Rocky Mountain Colt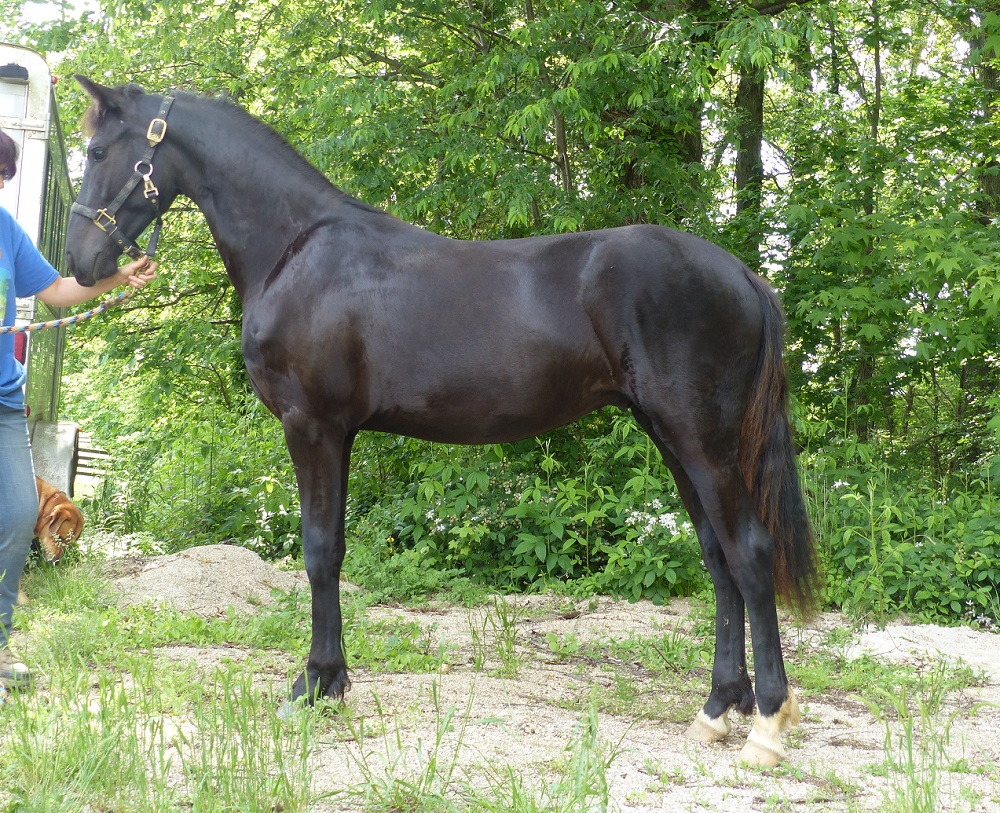 Born on 3-27-19 this guy is going to be a stunner! He is friendly, curious and bold. Has the looks and movement of his Friesian sire. He is a big gelding who we expect to finish up in the 16 hand range. Sired by Friesian stallion Ynze K out of our triple registered and approved to breed Rocky Mountain mare. Sells with his registration papers and is current on vaccines, deworming and trims. Handled and started off right. Well behaved for the farrier, Ties, leads and loads in the trailer. Will cross trail obstacles. Bridge, tarp, waterbox ect. Click here for video of obstacles Click here for more video Asking $4500 Click here for more photos.
PK Georgian on my mind
Born 3-3-13, pure black Georgia Grand filly. By Friesian Stallion Zakai and out of Saddlebred mare Shadow of Glitter. Zoey has the looks, movement and breeding to be an outstanding show horse. Handled since birth. Will be ready to wean and go to her new home July of 2013. Video of Zoey Zoey is SOLD! Congratulations to Amber Pitts. Looking forward to seeing you and Zoey in the show ring in the future. UPDATES on Zoey's show career: Congratulations to Zoey and Amber. Zoey won her first in hand dressage class and is now in the FSA Bronze Elite book.Zoey went four time World Champion at the IFSHA show, even winning against older horses! We are so proud of her and Amber!

SOLD
Rhythms Image
Rhythms Image is a 2009 3/4 friesian sport horse gelding. By friesian Stallion Hessel and out of our mare Cadenza. Video of him as a two year old just starting his under saddle training VIDEO
SOLD to Silver Medal dressage trainer Theresa Brummett of Florida. Congratulations Theresa! Looking forward to seeing the two of you in the show ring soon.
UPDATE Image went to the 2013 IFSHA World and Nationals and WON CHAMPION in three divisions! Going undefeated in all his classes. Dressage, Sport Horse in Hand and English Pleasure Horse. We are so proud of him and his owner Theresa Brummett. Looking forward to many more wins from this pair.
SOLD
PKS Venezia
2010 IALHA registered mare. 16.1 hands. Sired by Saphiro and out of a very nice thoroughbred mare. This filly exudes class. Very athletic with a good mind. Started right and brought along slowly. Shows talent for dressage and jumping. She is currently training in dressage and lightly started over fences. She will be in training all winter and her price will only go up in the spring. Good ground manners. Willing and easy to work with under saddle. Very light and responsive. Loves to go for trail rides. Ready to finish, show and win!
PK Vino Veritas
Rare classic champagne, minimal white tobiano Freisian Sport Horse foal. Sired by World and National Champion, Bronze Elite Friesian Stallion Zakai and out of our Registered APHA mare Mocha Dancer. Mare is lovely to handle and ride and Neg on the disease Panel. Nice show or stallion prospect. Colt is friendly and easy to work with. Handled regularly. Color tested with Animal Genetics as Ee aa CH/n TO/n. He carries one copy each of the champagne and tobiano genes. Registered with the Friesian Heritage Horse Registry as PK Vino Veritas. Is DNA typed and verified if someone is interested in him as a stallion prospect. Lots more pictures available just ask! Check out how he has changed from dark chocolate to beautiful classic champagne.**** SOLD! Going to a new home in California as a stallion prospect!!!*****
PK Vice Versary
This little guy is quite the looker. Awesome coloring combined with confirmation and movement. Sired by Friesian stallion Keegan and out of our super nice APHA mare CA Buckeye Bombshell. Mare is lovely to ride and negative on the disease panel and color tested as Ee AA CR/CR TO/TO, but is believed to have the At (sable) agouti. Handled regularly he is sweet and easy to work with. This guy has a bright future ahead of him either in the show ring or on the trails he is bred to be athletic and good minded. Registered with the Friesian Heritage Horse registry as PK Vice Versary. Is DNA typed and verified if someone is interested in him as a stallion prospect. This is our friendliest foal this year. Loves people and attention. Super easy to work with. Check out how he has changed from typical buckskin and white to a sooty buckskin and white. Pretty sure he has inherited the At agouti. Meaning he will be a dark buckskin.
Video 2 months old in round pen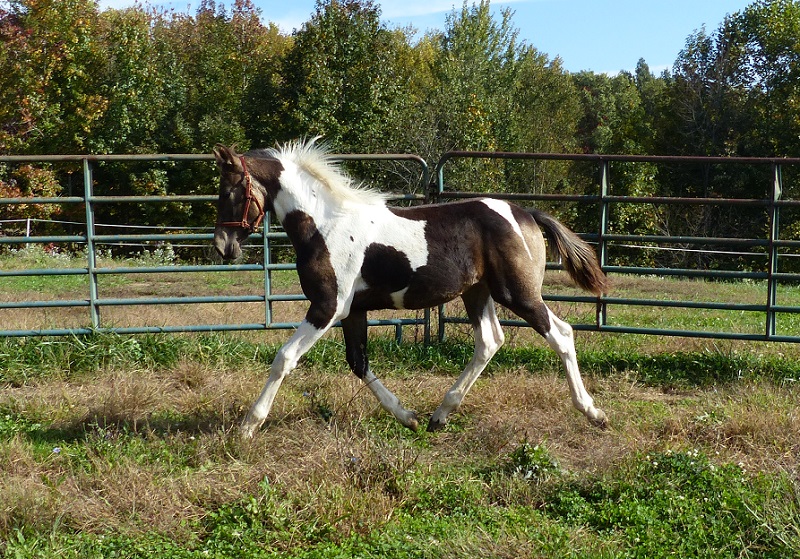 Chrysalis
Video at show, rider's first time over fences
Chrysalis aka "Lyssa" is owned by a client, but is out of our breeding program. She is located at our farm in Henderson, KY. She is a successful champion show horse, but also a wonderful trail horse. Has been shown in Hunters and Eventing. Has been Champion or reserve at most of her shows. Shown Hunters in the competitive Florida circuit and Eventing in Kentucky. Does everything you would expect from a serious show horse. Clips, baths, loads, ties to trailer quietly etc. She knows her job and is the ultimate professional in the ring. Check her out on our mares page for more info, or feel free to inquire on this lovely mare. We have lots of video and photos of this mare being shown, just ask and we will send you all her you tube links.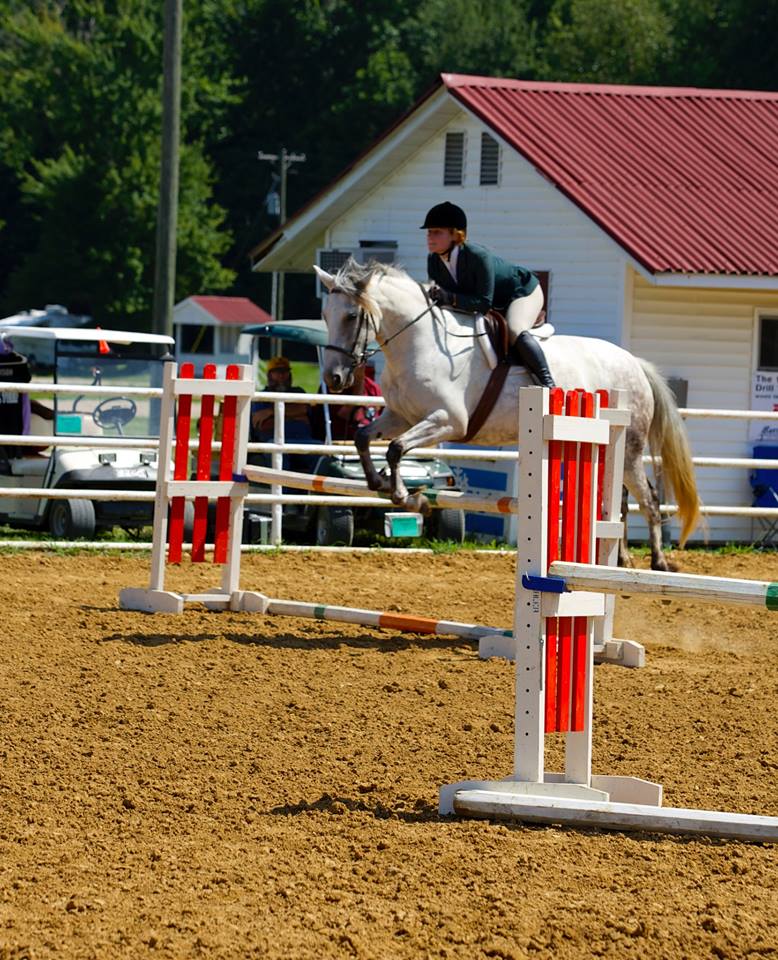 PK Mirage
Video with mom at a month old Video of PK Mirage
Leading lesson at a month old Video leading
Round pen by himself at two months old. PK Mirage round pen
Full friesian B book colt. Out of our mare imported third level dressage mare Gina Ut E Polder and by Keegan son of Grand Prix stallion Jorrit. Terms available until weaning. Already learning how to lead. Very friendly foal! Nice sport horse type foal with dressage breeding. Registered with the Friesian Heritage Horse Registry as PK Mirage. DNA Tested and verified.
PK Corsair
First time back in training after winter off Video W/T/C
Trotting with Intermediate student Video trotting
Working on moving off seal and leg with student Video figure eigthts
I have made the hard decision to put Henry on the sales list. I am trying to cut back on the number of horses due to my health. He is an amazing gelding and someone is going to get an exceptionally nice show quality friesian. He was gelded this spring and has no stallion behaviors but does have the bigger stallion type body since he was gelded late. Currently in the 16 hand range we expect him to mature out at or close to 17 hands like his sire. He is green broke to saddle. Had 90 days put on him last fall. We then turned him out to let him grow some more. Got back on him this spring and you would never know he had any time off. This guy LOVES attention and loves to work. Very balanced and rhythmic mover, you would think he was much farther along in his training! Does everything you would expect of a show prospect. Loads, ties, fly spray, hose etc. Please note this is a three year old with alot of growing still to do. We have not pushed him in order to keep him sound. He is super easy and currently being trained by an amature trainer and doing great. He will not be hard to bring though the levels. He is also been trail ridden and is very laid back and fun. This guy has got the breeding, movement and work ethic to be a serious show horse. But is also calm and loving enough to be a great trail partner. Registered with both FOA and FHH. DNA tested and verified. Videos
SOLD
Orchidee
Orchidee is an imported 2004 Full papered FPS mare by Abe out of an Jurjen mare. She is 15.2 hands. She was used as a broodmare most of her life. Started under saddle as a 10 year old. Mostly used as a trail horse, but does have some basic dressage training. She has good energy and loves to work. Wonderful ground manners. Comes right up to you in the field and loves attention and being with people. Healthy and sound.
Video under saddle